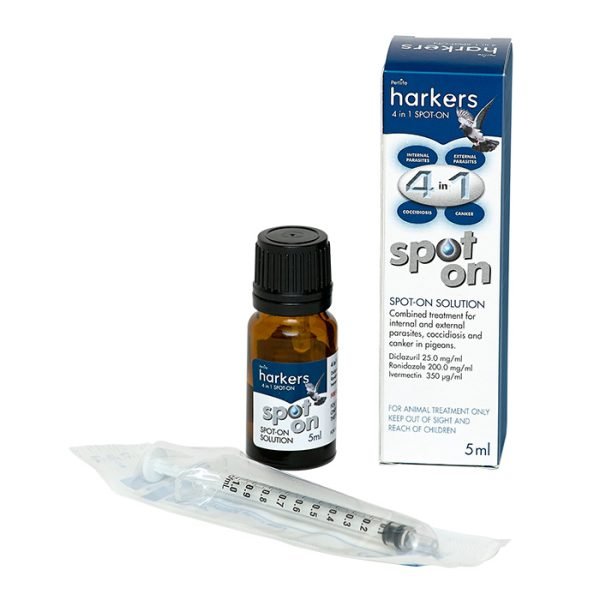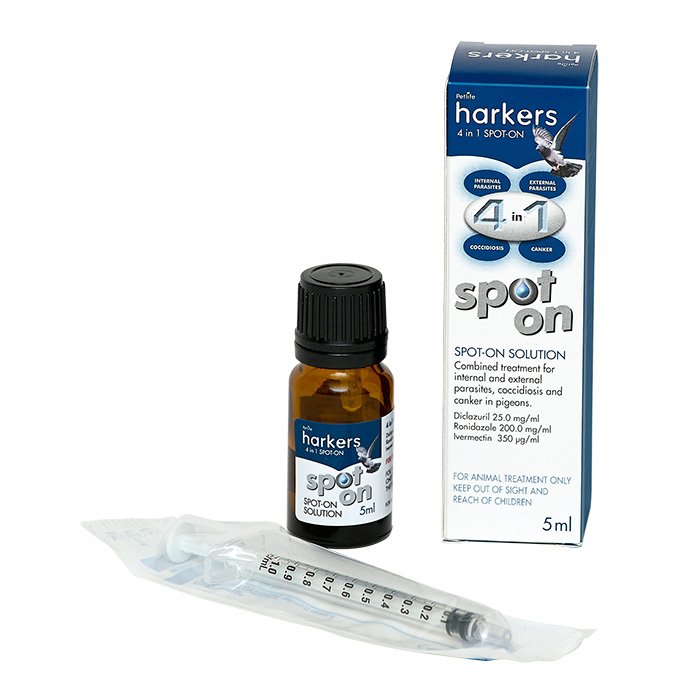 Harkers – 4 in 1 Spot On
£25.49 — available on subscription
HARKERS 4 IN 1 SPOT-ON is a combined treatment for internal and external parasites, coccidiosis and canker in pigeons.
Description
Additional information
Reviews (0)
Description
HARKERS 4 IN 1 SPOT-ON is a combined treatment for internal and external parasites, coccidiosis and canker in pigeons.
It is presented as a solution containing diclazuril 25 mg/ml, ronidazole 200mg/ml and ivermectin 350 μg/ml.
USES
For administration to homing, racing and show pigeons, for the treatment of internal and external parasites:
Internal parasites: Hairworm and roundworm infections
External parasites: Feather and quill lice and red mite infestation
Treatment and control of coccidiosis caused by Eimeria labbeana and Eimeria columbarumTherapeutic and routine treatment of canker (trichomoniasis) caused by Trichomonas columbae
DOSAGE AND ADMINISTRATION
Single dose: 0.1ml per adult bird for topical (spot-on) administration only, using the 1.0 ml dosing syringe provided. Separate the feathers
between the shoulder blades of each bird. Apply 0.1ml solution directly to the bird's skin. Treatment may be repeated every 4 – 6 weeks. After treatment wait 2-3 days before you then race the pigeon again.
For use on pigeons only.
NOT FOR USE ON PIGEONS INTENDED FOR HUMAN CONSUMPTION.
THIS PRODUCT IS FOR TOPICAL (SPOT-ON) USE ONLY.
DO NOT ADMINISTER THIS PRODUCT BY MOUTH.
Do not use during the main moulting season. Do not use during the hatching period. Do not use whilst the young birds are in the nest.
Do not use on pigeons weighing less than 400g.
Do not use on animals other than those indicated.
Serious reactions, including deaths, have been reported in dogs (especially Collies, Old English Sheep Dogs and related breeds), tortoises and turtles. Do not
use on tortoises and turtles.
USER WARNINGS
Wash hands immediately after administration of the product to birds and after clearing waste from treated birds. If, after handling the product, irritation develops, wash the affected area thoroughly with water. Do not touch the eyes while handling the product. In case of accidental eye contact, wash the eye thoroughly with water. If irritation persists, seek medical attention.
No known interactions with other products.
STORAGE/DISPOSAL ADVICE
Store below 25°C. Store in a cool, dry place.
Shelf life of unopened product: 3 years. Do not use after the expiry date which is stated on the label and carton after "EXP".
After opening the product will keep for 6 months if vial is tightly closed with original cap in outer carton.
Dispose of empty packaging and any remaining product in the household refuse. Excreta from treated birds should not be spread onto land used for growing crops.
KEEP OUT OF SIGHT AND REACH OF CHILDREN.
FURTHER INFORMATION
In order to reduce the risk of re-infection following treatment, good management and hygiene practices are essential, in particular regular cleaning of the
premises to remove pigeon excreta. If signs of disease persist or appear, consult your veterinary surgeon.
FOR ANIMAL TREATMENT ONLY
Additional information
| | |
| --- | --- |
| Weight | 0.05 kg |
| Dimensions | 3.5 × 3.5 × 9.5 cm |
| Brand | Petlife Harkers |
| Weight | 5ml |