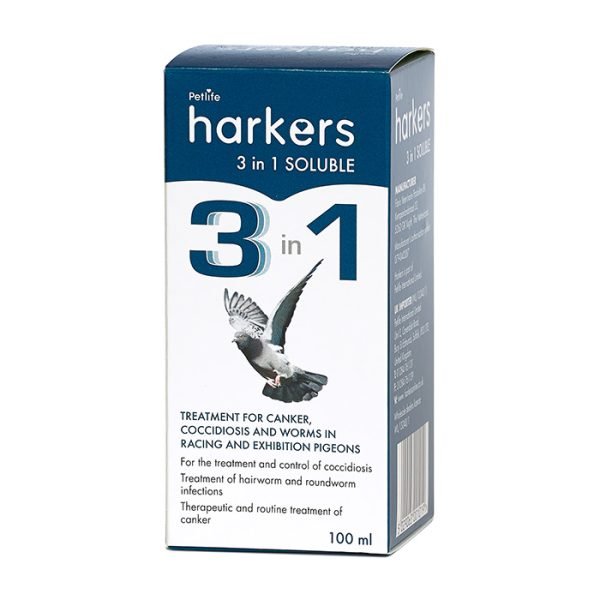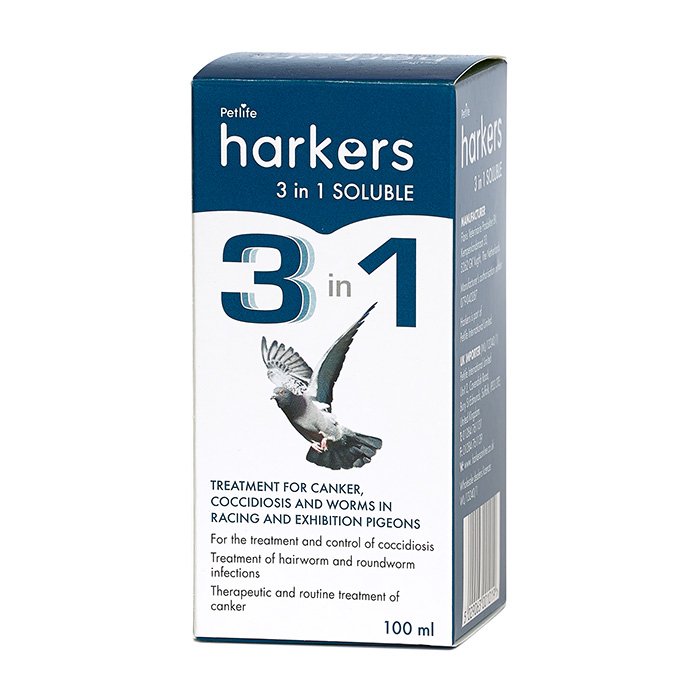 Harkers – 3 in 1 pigeon Soluble – Treats Canker, Coccidiosis and Worms
£24.49 — available on subscription
Harkers 3 in 1 soluble is for the prevention of Coccidiosis, Canker and Worms in a single dose, so takes away the hassle of treating birds with three separate medicines.
You can treat with 3 -in-1 Soluble for the drinking water
Not to be used on on birds for human consumption
Description
Additional information
Reviews (0)
Description
Harkers 3 in 1 pigeon Soluble is designed to take the hassle out of treating birds with 3 separate medications. 
3 in 1 pigeon treatment to treat and prevent coccidiosis, canker and worms
One treatment with three different applications saving fanciers time
Available in a liquid form
ACTIVE INGREDIENTS
Contains Amprolium hydrochloride 3.8% w/v (38 mg/ml);  Levamisole hydrochloride 1.7% w/v (17mg/ml); Ronidazole 1.2% w/v (12 mg/ml).
DOSAGE INSTRUCTIONS
For oral administration. Dilute 6.0ml Harkers 3 in 1 Soluble in 1 litre drinking water. Offer the diluted solution to the birds daily for a 7 day period. Always make a fresh solution daily. Do not allow the birds to drink from any other source. Precautionary worming is advised 3 weeks before the start of breeding.
INDICATIONS
For administration to homing, racing and show pigeons for the following conditions:  treatment and control of coccidiosis caused by Eimeria labbeana and Eimeria columbarum; treatment of hairworm and roundworm infections; therapeutic and routine treatment of canker (trichomoniasis) caused by Trichomonas coloumbae.
CONTRA-INDICATIONS
NOT FOR USE IN PIGEONS INTENDED FOR HUMAN CONSUMPTION. Do not use in pigeons under two months of age.  Do not use during the moulting season.  Do not use during the hatching period. Do not administer with drugs that may cause vomiting.
STORAGE AND DISPOSAL ADVICE
Do not store above 25°C. Store in a dark place. Ensure the bottle is tightly closed during storage. Keep out of reach of children. Dispose of unused product and packaging into the domestic refuse.
Additional information
| | |
| --- | --- |
| Weight | 0.1 kg |
| Brand | Petlife Harkers |
| Weight | 100ml |